PLAYERS
Core to its strategy and its platform is tennium's close relationship with players supporting them with a boutique and personalised service to assure their growth into future champions.
tennium is proud to represent top female and male professional players worldwide as well as some of the best up and coming talented junior players.
tennium offers a wide range of services including when needed the set-up of professional teams and financial support.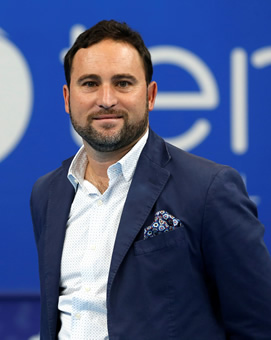 Enric Molina Mur
Partner and Players Agent
Julien Cassaigne
Partner and Players Agent
Philippe Weiss
Director and Players Agent
Júlia Vilardell
Players Management Assistant
FELICIANO LÓPEZ
Birthday: 20th September 1981
Nationality: Spanish
Turned Pro: 1997
Highest ranking: 12 (2nd March 2015)
Career titles: 7
Davis Cup Champion: 2008, 2009, 2011, 2014
ATP
2004 – ATP 500 Vienna
2010 – ATP 250 Johannesburg
2013 – ATP 250 Eastbourne
2014 – ATP 250 Eastbourne
2016 – ATP 250 Gstaad
2016 – Roland Garros doubles
2017 – US Open doubles (F)
2017 – ATP 500 London Queen's Club
2019 – ATP 500 London Queen's Club singles & doubles
Record for most consecutive participations in Grand Slams (69)
Record for most Masters 1000 events played
Sponsors: Hydrogen, Wilson
RICHARD GASQUET
Birthday: 18th June 1986
Nationality: France
Turned Pro: 2002
Highest ranking: 7 (9th July 2007)
Career titles: 15
2005 – Nottingham
2006 – ATP 250 Lyon
2006 – ATP 250 Gstaad
2006 – Nottingham
2007 – Mumbai Open
2010 – ATP 250 Nice
2012 – ATP 250 Bangkok
2013 – ATP 250 Moscow
2013 – ATP 250 Montpellier
2013 – ATP 250 Doha
2015 – ATP 250 Estoril
2015 – ATP 250 Montpellier
2016 – ATP 250 Antwerp
2016 – ATP 250 Montpellier
2018 – ATP 250 s-Hertogenbosch
Sponsors: Le Coq Sportif & Head & Unique Sports
TOMMY ROBREDO
Birthday: 1st May 1982
Nationality: Spanish
Turned Pro: 1998
Highest ranking: 5 (28th August 2006)
Career titles: 12
Davis Cup Champion: 2004
ATP
2001 – ATP 250 Sopot
2004 – ATP 500 Barcelona
2006 – ATP 1000 Hamburg
2006 – ATP 250 Bastad
2007 – ATP 250 Sopot
2007 – ATP 250 Metz
2008 – ATP 250 Bastad
2009 – ATP 250 Costa do Sauipe
2009 – ATP 250 Buenos Aires
2011 – ATP 250 Santiago
2013 – ATP 250 Umag
2013 – ATP 250 Casablanca
Sponsors: Sergio Tacchini, Wilson
SORANA CIRSTEA
Birthday: 7th April 1990
Nationality: Romania
Turned Pro: 2005
Highest ranking: 21 (12th August 2013)
Career titles: 1
2008 – WTA Tashkent
2013 – Rogers Cup – Toronto (F)
2016 – W25 Bertioga
2016 – W25 Guaruja
2019 – WTA Tashkent (F)
Sponsors: New Balance, Yonex
MARIE BOUZKOVA
Birthday: 21st July 1998
Nationality: Czech Republic
Turned Pro: 2013
Highest ranking: 53 (12th August 2019)
Career titles: 11 ITF titles
2014 – US Open Junior Grand Slam
2017 – W25 Monzon (F)
2017 – W15 Orlando
2017 – W25 Perth
2018 – W25 Irapuato
2019  – WTA 125k Guadalajara (F)
2019 – W80 Nur-Sultan
2019 – WTA Rogers Cup (SF)
Sponsors: Joma, Yonex
ANA KONJUH
Birthday: 27th December 1997
Nationality: Croatia
Turned Pro: –
Highest ranking: 20 (31st July 2017)
Career titles: 3
Youngest ever to win both U18 Eddie Herr and Orange Bowl (14 years old)
2013 – 2 Junior Grand Slam titles: Australian Open & US Open
2015 – WTA Nottingham
2016 – US Open (QF)
2017 – Wimbledon (16R)
ILYA IVASHKA
Birthday: 24th February 1994
Nationality: Belarus
Turned Pro: 2013
Highest ranking: 80 (4th February 2019)
Career titles: –
2016 – Recanati CH (F)
2017 – Fergana CH
2018 – Shenzen CH
2018 – ATP250 Marseille (SF)
Sponsors: Hydrogen, Head
CARLOS TABERNER
Birthday: 8th August 1997
Nationality: Spanish
Turned Pro: 2015
Highest ranking: 175 (23rd October 2017)
Career titles: –
2014 – Valerio Cup
2014 – Spain U-18
2015 – ITF Vinarós J2
2016 – ITF Tunez
2016 – ITF Bucarest
2016 – ITF Denia
2017 – Banja Luka CH (F)
2017 – Sibiu CH (F)
2017 – Spanish National Championships
Sponsors: Babolat, Le Coq Sportif
PRAJNESH GUNNESWARAN 
Birthday: 12th November 1989
Nationality: India
Turned Pro: 2010
Highest ranking: 75 (22nd April 2019)
Career titles: 10 (2 Challengers & 8 Futures)
2018 – Futures India
2018 – Anning CH
2018 – Ningbo CH (F)
2018 – Bangalore CH
2018 – Pune CH (F)
Sponsors: Lotto & Babolat
LARA ARRUABARRENA
Birthday: 20th March 1992
Nationality: Spanish
Turned Pro: 2009
Highest ranking: 52 (3rd July 2017)
Career titles: 2
2012 – WTA Bogota
2013 – WTA 125k Cali
2016 – WTA Seoul
2018 – WTA Bogota (F)
Sponsors: Joma, Babolat
MARC LÓPEZ
Birthday: 31st July 1982
Nationality: Spanish
Turned Pro: 1999
Highest ranking: 3 (28th January 2013)
Career titles: 14
Olympic Games: Gold Medal 2016
2009 – ATP 250 Doha
2010 – ATP 1000 Indian Wells
2010 – ATP 250 Estoril
2010 – ATP 500 Hamburg
2011 – ATP 250 Doha
2012 – ATP 1000 Indian Wells
2012 – ATP 1000 Rome
2012 – ATP 250 Gstaad
2012 – ATP Finals
2014 – ATP 250 Buenos Aires
2016 – Roland Garros
2016 – ATP 250 Doha
2017 – US Open (F)
2018 – ATP 500 Barcelona
Sponsors: Nike, Babolat
ÁLVARO LÓPEZ SAN MARTÍN
Birthday: 2nd June 1997
Nationality: Spanish
Turned Pro: –
Highest ranking: 349 (30th January 2017)
Career titles: –
2013 – Junior Davis Cup
2015 – Roland Garros Junior Doubles
2015 – ITF Casablanca
2015 – ITF Villena
2016 – Futures Oviedo
2016 – Futures Sevilla
2016 – Futures Santander
2018 – Futures Sabadell
2018 – Futures Melilla
2019 – Futures Murcia
2019 – Futures Antalya
Sponsors: Adidas, Wilson
SANTIAGO GIRALDO
Birthday: 27th November 1987
Nationality: Colombian
Turned Pro: 2004
Highest ranking: 28 (21st September 2014)
Career titles: –
2011 – ATP 250 Santiago (F)
2014 – ATP 500 Barcelona (F)
Sponsors: Bronzini Active – Santi Giraldo, Babolat, ColSanitas
FACUNDO DÍAZ ACOSTA
Birthday: 15th December 2000
Nationality: Argentina
Turned Pro: 2018
Highest ranking: 469 (23rd February 2020)
Career titles: –
2018 – Silver medal singles at the Youth Olympic Games
2018 – Gold medal doubles at the Youth Olympic Games
2018 – top 10 Junior (Junior tournaments 2018)
2019 – M15 Santa Cristina val Gardena
Sponsors: Joma, Wilson
ZIZOU BERGS
Birthday: 3rd June 1999
Nationality: Belgium
Turned Pro: 2016
Highest ranking: 386 (17th December 2018)
Career titles: –
2015 – ITF Maaseik
2017 – ITF Junior Benicarló
2017 – ITF Junior Vinarós
2018 – Futures Antalya
2019 – ITF Doha
Sponsors: Yonex, Chalo
VICTORIA JIMENEZ KASINTSEVA
Birthday: 9th August 2005
Nationality: Andorra
Turned Pro: –
Highest ITF ranking: 2 (2nd February 2020)
Career titles: –
2017 – Spanish Champion U12
2018 – Rafa Nadal Tour Barcelona U14
2018 – Longines Cup Roland Garros
2019 – Mutua Madrid Open U16
2019 – ITF J5 Tarragona
2019 – ITF J4 Limelette
2019 – ITF J3 Barcelona
2019 – ITF J3 Sanchez-Casal Junior Cup
2019 – ITF J3 Saint Cyprien
2019 – ITF JA Merida
2020 – Australian Open Junior
Sponsors: Nike, Wilson
ANE MINTEGI
Birthday: 24th October 2003
Nationality: Spanish
Turned Pro: –
Highest ITF ranking: 15 (2nd February 2020)
Career titles: –
2015 – Rafa Nadal Tour U12 (Valldoreix)
2015 – Rafa Nadal Tour U12 (Zaragoza)
2015 – Rafa Nadal Tour U12 (Barcelona)
2018 – Cairo U18
2018 – Jug Open U18
2018 – Skopje U18
2019 – Brasil Juniors Cup
2020 – Australian Open Junior (QF)
DANIELLA DIMITROVA
Birthday: 21st January 2002
Nationality: Bulgarian
Turned Pro: –
Highest ITF ranking: 68 (6th January 2019)
Career titles: –
2015 – Bankia Cup U14
2016 – Sanchez-Casal Youth Cup U14
2017 – J4 Casablanca
2018 – J2 Prato
Sponsors: Nike, Wilson
KARLIS OZOLINS
Birthday: 15th June 2002
Nationality: Latvia
Turned Pro: –
Highest ITF ranking: 6
Career titles: 6 Junior titles
2019 – ITF J3 Istanbul
2019 – ITF J3 Istanbul Junior Cup
2019 – ITF J1 College Park MD, USA
2019 – ITF J2 Haifa
2019 – ITF J3 Liepaja
2020 – Australian Open Junior (SF)
Sponsors: Head
LUCA NARDI
Birthday: 6th August 2003
Nationality: Italy
Turned Pro: –
Highest ITF ranking: –
Career titles: 4 Junior titles
2017 – Winner Les Petits As
2017 – ITF J5 Tirana
2017 – International Tournament Pavia
2017 – International Tournament Citta' di Crema
2018 – ITF J5 Siroki Brijeg
2018 – ITF J4 Hammamet
2018 – ITF J2 Prague
Sponsors: Nike & Yonex
LILIAN MARMOUSEZ
Birthday: 3rd January 2002
Nationality: France
Turned Pro: –
Highest ITF ranking: –
Career titles: 3 Junior titles
2017 – ITF J5 Dijon
2017 – ITF J5 Saint Gregoire
2019 – ITF J3 Derendingen
Sponsors: Nike & Head
MAX ALCALÀ
Birthday: 11th September 2002
Nationality: Spanish
Turned Pro: –
Highest ITF ranking: 51 (12th January 2020)
Career titles: –
2018 – ITF U18 Júnior Argelia
2018 – ITF U18 Júnior I Trofeo David Ferrer
2018 – Spanish Championship (F)
Sponsors: Head
TÉRENCE ATMANE 
Birthday: 9th January 2002
Nationality: France
Turned Pro: –
Highest ITF ranking: 20 (12th January 2020)
Career titles: 3 Junior titles
2017 – ITF J5 Mostaganem
2017 – ITF J5 Cairo
2019 – ITF J3 The Hague
2019 – ITF JA Cape Town (F)
Sponsors: Wilson
LENNON JONES
Birthday: 15th January 2005
Nationality: Japan
Turned Pro: –
Highest ITF ranking: –
Career titles: –
2017 – U12 Orange Bowl
2017 – U12 Eddie Herr (F)
2019 – U14 BNP Paribas Cup Stade Français
Sponsors: Asics & Wilson
SALMA DJOUBRI
Birthday: 20th December 2002
Nationality: France
Turned Pro: –
Highest ITF ranking: –
Career titles: –
UGO BLANCHET 
Birthday: 5th January 1999
Nationality: France
Turned Pro: 2018
Highest ranking: 924 (December 2019)
Career titles: –
MATTEO MARTINEAU
Birthday: 16th January 1999
Nationality: France
Turned Pro: 2017
Highest ranking: 402 (12th August 2019)
Career titles: 2 (Futures)
2018 – Futures France
2019 – M15 Poitiers (F)
2019 – M15 Piombino
2020 – M15 Bagnoles-de-l'Orne (F)
Sponsors: Lotto & Wilson
JORGE PLANS
Birthday: 28th January 2002
Nationality: Spanish
Turned Pro: –
Highest ITF ranking: –
Career titles: –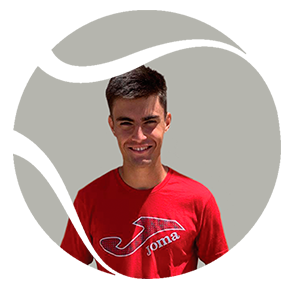 BRUNO PUJOL
Birthday: 27th August 2001
Nationality: Spanish
Turned Pro: –
Highest ITF ranking: –
Career titles: –
PEPE LEÓN
Birthday: 11th February 2005
Nationality: Spanish
Turned Pro: –
Highest ITF ranking: –
Career titles: –
STEFAN POPOVIC 
Birthday: 25th May 2003
Nationality: Serbia
Turned Pro: –
Highest ITF ranking: –
Career titles: 1 Junior title
FATIMA KEITA
Birthday: 13th July 2003
Nationality: Romania
Turned Pro: –
Highest ITF ranking: –
Career titles: –
MARK LAJAL
Birthday: 12th May 2003
Nationality: Estonia
Turned Pro: –
Highest ITF ranking: –
Career titles: 2 Junior titles
2019 – ITF J5 The Hague
2019 – ITF J5 Esch/Alzette
2019 – ITF J4 Maribor (F)
Sponsors: Wilson
HENRIK BLADELIUS 
Birthday: 2nd May 2004
Nationality: Sweden
Turned Pro: –
Highest ITF ranking: –
Career titles: –
VILIUS GAUBAS
Birthday: 29th December 2004
Nationality: Lithuania
Turned Pro: –
Highest ITF ranking: –
Career titles: –
NICHOLAS DAVID IONEL
Birthday: 12th October 2002
Nationality: Romania
Turned Pro: 2017
Highest ranking: 550 (25th November 2019)
Career titles: 5 (4 Futures & 1 Orange Bowl)
2019 – M15 Brasov
2019 – M15 Targu Mures
2019 – M15 Tabarka 44
2019 – M15 Tabarka 46
Sponsors: Asics & Yonex
IMRAN HAZLI 
Birthday: 12th April 2005
Nationality: Malaysia
Turned Pro: –
Highest ITF ranking: –
Career titles: –
LEO COHEN-BACRIE
Birthday: 9th February 2006
Nationality: France
Turned Pro: –
Highest ITF ranking: –
Career titles: –
2018 – U12 Mouratoglou Cup
2018 – U12 Passage Espoirs
2019 – U14 Salona Cup
Sponsors: Nike & Babolat
EMMA FANTUSIS
Birthday: 8th December 2006
Nationality: Bulgaria
Turned Pro: –
Highest ITF ranking: –
Career titles: –
BEVERLEY NYANGON 
Birthday: 3rd January 2007
Nationality: France
Turned Pro: –
Highest ITF ranking: –
Career titles: –
YOSHKA SBOROWSKY 
Birthday: 12th January 2007
Nationality: France
Turned Pro: –
Highest ITF ranking: –
Career titles: –
ELLIOT BENCHETRIT 
Birthday: 2nd October 1998
Nationality: France
Turned Pro: –
Highest ranking: 198 (2nd February 2020)
Career titles: –